Tipperary PPN November Newsletter 2022
Sections:
Active Public Consultations/Notices

Funding/ Grant Opportunities

Public Service Announcements

Training and Upcoming Local Events
Active Public Consultations/Notices
Pre-Draft Public Consultation for Local Area Plans (LAP) 

In accordance with Section 20 of the Planning and Development Act 2000 (as amended), Tipperary County Council has published Pre-Draft Issues Paper for the Clonmel, Nenagh, Thurles and Roscrea Local Area Plans.

The Pre-Draft Issues Papers for each of the Local Area Plans can be viewed on the Council's webpage at: https://www.tipperarycoco.ie/planning/local-area-plans/consultation

Paper copies of the Pre-Draft Issues Paper for each of the Local Area Plans are available at Planning Sections in the Civic Offices in Clonmel and Nenagh, and the respective local libraries in each of the towns. Copies of the Pre-Draft Issues Papers for Thurles and Roscrea are also available at Thurles Municipal District Office.

Submissions are now invited until 4pm, Monday, 5 December 2022.
Irish Wheelchair Association (IWA) launched its Strategy 2022-2025

As a person with a disability, this survey will give you the opportunity to have your voice heard by telling us what your needs and requirements are to live the life you choose.  The IWA want to know what is important to you so they can campaign on issues that are relevant to you.

If you wish to be more involved in IWA Advocacy and having your voice heard as part of a collective group please contact joan.carthy@iwa.ie.
Funding/ Grant Opportunities
Circular Economy Innovation Grant Scheme (CEIGS) 2022
Accepting Applications
This €650,000 grant scheme supports innovation and circular economy projects by social enterprises, voluntary and community organisations, and businesses with fewer than 50 employees. Up to €100,000 is available for individual projects that demonstrate exceptional impact.
The Circular Economy Innovation Grant Scheme (CEIGS) is a Government of Ireland initiative led by the Department of the Environment, Climate and Communications (DECC).
By funding circular economy projects and enterprises, the CEIGS directly supports the growth of the circular economy in Ireland and provides high-profile examples of best practice.
The 2022 call for applications closing at 5pm on 16th December 2022
For more information please visit https://www.gov.ie/en/service/b3faa-apply-for-the-circular-economy-innovation-grants-scheme-ceigs/
Our Rural Future: Minister Humphreys launches new initiative to support Women's Sheds
The Community and Voluntary Energy Support Scheme
The scheme will open for applications on Monday 21st November and close on Friday 2nd December. It is expected that payments under the scheme will commence before the end of this year and into early 2023.

The scheme is being administrated by Pobal not the Tipperary County Council.
The press release can be accessed at the Press Release link below and more details about eligibility is available at this Eligibility link.
The scheme is designed to help the sector with their increased bills, which is having an impact on the operations of many community and voluntary groups.
The scheme will provide once-off support to organisations within the Community and Voluntary sector which fall outside the parameters of other energy support schemes being delivered by Government such as the Temporary Business Energy Support Scheme (TBESS)..
Closing date for application is Friday 2nd December 2022.
For more information and to apply please visit https://www.tipperarycoco.ie/news/community-and-voluntary-energy-support-scheme
Public Service Announcements
Launch of report on enhancing participation of people with disabilities
Training and Upcoming Local Events
Home exercise videos for adults living with chronic conditions
HSE Healthy Eating Active Living Programme and Office of the National Clinical Advisor and Group Lead for Chronic Disease have collaborated with HSE physiotherapy colleagues to produce a series of 10-45 minute home exercise videos. These videos are suitable for people living with chronic conditions who can exercise safely at home.
The videos range from warms ups to chair exercises, to a 10 minute gentle aerobic session and also include full aerobic and resistance sessions. They are suitable for those beginning exercise or those who haven't exercised in a while. The videos can be self-paced and done in 10 minute slots building to up to 45 minute sessions over time. They are also available for healthcare professionals to signpost to patients who they know can do these safely at home.  All the sessions have been clinically designed and approved by physiotherapists in the HSE.
To access these videos visit https://www2.hse.ie/wellbeing/being-active-with-a-health-condition/being-active-with-a-health-condition.html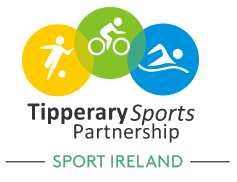 Child Welfare & Protection in Sport Basic Awareness Training
The course is aimed at sports leaders, children's officers, parents or anyone working with young people in sport. A central goal for all those involved in sport for young people is to provide a safe, positive and nurturing environment where children can develop and enhance their physical and social skills.
Promoting a child-centred environment should go hand in hand with identifying and eliminating practices that impact negatively on safe and enjoyable participation in sport for young people.
The next series of workshops will be delivered via zoom by Sport Ireland tutors on the dates below.
Spring 2023 Tickets
Safeguarding 1
23rd & 30th January 2023 

13th & 20th  February 2023 

6th & 13th  March 2023 
Safeguarding 2
Safeguarding 3
To book your place visit https://www.tipperarysports.ie/content/child-welfare-protection-in-sport-basic-awarenesstraining
Cost is €15 plus booking fee.
Please book early as places are limited on the workshop. A Certificate of Attendance will be awarded on completion of the course.

Christmas is an expensive time, but with a bit of planning, you can help reduce your food costs and your food waste. 
The simple steps we want to encourage people to take are:
Check how many you are cooking for – find out how many people you are cooking for this Christmas so you can plan the food you need. Also, check if guests have any dietary needs or don't like certain foods so you can serve what people will eat.
Make your festive food plan and stick to it – try not to get side-tracked by special offers in the shops.
Please find attached the Toolkit for this campaign. As before, the Toolkit includes a graphic for each tip and suggested text that can be posted on PPN social media accounts and/or include the information in your upcoming newsletter. The high-resolution graphic files are attached also.
Mental Health Literacy Campaign
HSE Mental Health Literacy Campaign on World Mental Health day, please find attached a partner pack outlining the messages, and containing links to some of the main assets for now.
The campaign helps people make the connection between common mental health difficulties like ongoing stress, sleep, anxiety or low mood that they or others in their life may be experiencing and highlights the different levels of support that can help.
European Network for Rural Development (ENRD) Monthly Newsletter
The European Network for Rural Development (ENRD) serves as a hub for exchange of information on how Rural Development policy, programmes, projects and other initiatives are working in practice and how they can be improved to achieve more.  Its work aims to engage and reach anyone with an interest in and commitment to rural development in Europe.
This newsletter provides an update on ENRD and wider rural development activities throughout Europe. It also showcases a 'project of the month', features various publications of interest, and contains details on past and upcoming events throughout Europe.
Featured in the September edition of the newsletter are details on the approval of CAP Strategic Plans across the EU, including Ireland. You can read the newsletter here.
Poorly treated sewage continues to harm the quality of our rivers, lakes and coastal waters, says EPA.
Age Friendly Ireland Newsletter 
Latest Arts Office Newsletter
Tipperary Together Newsletter