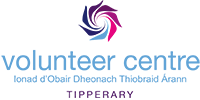 Does your Organisation need help or would you like to Volunteer during the Covid 19 Crisis?
Tipperary Volunteer Centre & Tipperary PPN recognise the impact that COVID-19 virus is having across all sections of our community in Tipperary.
We know how resilient our communities are and we know that organisations will need some extra support in the coming weeks. At present we do not know what that support will be. However we know people want to help.
With that in mind we are compiling a list of organisations that request support and volunteers that wish to help.
Organisations can let us know if they need support and volunteers can let us know if they want to receive information where volunteers are required.
1. Organisations: If you are an organisation that needs help, please email response@volunteertipperary.ie
2. Volunteers: If you would like to volunteer and want to receive verified information and a list of possible areas where you can assist local community organisations just fill out the short form HERE
Please don't hesitate to get in contact with us.
Stay Safe,
Avril Wilson Tipperary PNN & Derek Fanning Tipperary Volunteer Centre
Tipperary PPN:
Tel: 0504 61014
Tipperary Volunteer Centre:
Tel:062 64775
If you wish to update the contact details, we have held for your group and guarantee up to date information please email details to coordinator@ppntipperary.ie *If you no longer wish to be a member of PPN Tipperary and would like to unsubscribe please email coordinator@ppntipperary.ie
(Please note that by unsubscribing your group will no longer receive further first hand information in regards to Funding/Grants/Events/Information etc that may be of help to your organisation)*
If you wish to update the contact details, we have held for your group and guarantee up to date information please email details to coordinator@ppntipperary.ie *If you no longer wish to be a member of PPN Tipperary and would like to unsubscribe please email coordinator@ppntipperary.ie
(Please note that by unsubscribing your group will no longer receive further first hand information in regards to Funding/Grants/Events/Information etc that may be of help to your organisation)*